---
Our Club operates two repeaters (2M & 70cm) identifying as W9ATG
.– —-. .- – –.
LOCATION ( Hancock County, 3.75 miles NE of Greenfield, IN )
2 Meter: 145.330 MHz (-) CTCSS 88.5 Hz
ERP 55W (47.4 dBm) at 350 Ft.

70 cm : 444.450 MHz (+) DCS code 465
ERP 88.7 W (49.5 dBm) at 350 Ft.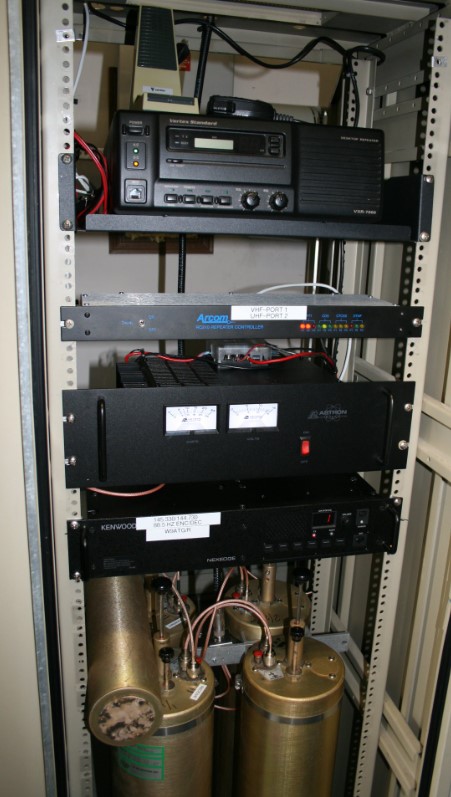 ---
These repeaters are normally linked together but may be unlinked in the case of a meeting being held on one or the other, or if RACES and ARES nets are needed simultaneously. Both repeaters are OPEN repeaters.
ARES Primary Repeater: 145.330 MHz
RACES Primary Repeater: 444.450 MHz
Weekly practice Nets are held simultaneously on the linked repeaters each Tuesday evening at 7:30 P.M. This is an open net and any licensed amateur radio operator is welcome to participate. The net manages Traffic, News Items, Announcements, and amateur radio related items offered for Buy-Sell-Trade.
We would like to thank Ninestar Connect for the use of their tower to host our two repeater systems.
---
W9ATG Repeater Coordination
*** IRC Frequency Coordination Application ***
Submitted by Administrator : AK9R
Application Status : Final
Expires: : 20251111
Submittal Type : Coordinator Action
---
Modification Details:
Change Date: November 13, 2023 18:58
By: AK9R
EXPIRES : 20231111 -> 20251111
LAST_ACTION : Renewal -> Coordinator Action
EXPCOUNT : 3 last notice: 10/27/2023 -> 0
---
Complete Application:
Suggested Output Freq : 145.330
Suggested Input Freq : 144.730
Bandwidth : Standard
Band of Operation: : 144
System Type : Repeater
Application Control Number : A00275
Original Application Date : 20160820
Applicant Name & Call : George T Boaz, KD9GHS
Applicant Mailing Address :
Applicant City/State/Zip : Greenfield, IN 46140
Applicant eMail : george.boaz@outlook.com
Applicant Cell Phone : 317-313-8118
System Sponsor : HARC
Abbreviated Sponsor Name : HARC
Transmitter Callsign : W9ATG
System Trustee : George T Boaz
System Trustee Callsign : KD9GHS
System Trustee Day Phone :
System Trustee Eve Phone :
System Trustee Cell Phone : 317-313-8118
Control Op : Jon Reeves
Control Op ID : WB9CNE
Control Op Day Phone : 317-649-2921
Control Op Eve Phone : 317-649-2921
Controp Op Cell Phone : 317-649-2921
System Location Street : 5117 N 300 E
System Location Building : ASR #1031030
System Location C/S/Z : Greenfield, IN 46140
System Location Latitude : 39 d 51 m 44 s
System Location Longitude : 85 d 44 m 40 s
Site Ground AMSL : 918
Antenna Height above Ground: 350
Antenna HAAT : 367
Antenna Type and Gain : Telwave Station Master 6 dB
Antenna Mount : Top
Feedline Type, Lgth, Loss : 7/8 heliax, 360 ft., 3.140000105 dB
Transmitter Power int FDL : 28
TX CTCSS : 88.5
RX CTCSS : 88.5
TX DCS :
RX DCS :
Can link? : FT
Open/Closed/Members Only : Open
Repeater Directory Notes : O 88.5 L(444.450)ersx WX
Researched? :
Equipment Ready? : Y
---
Hancock County Fusion Repeater
Identifying as N9BA
Rx: 443.675 DCS 465 (+) Tx: 448.675
AMS Mode, 25 Watt @ 100ft
w/APRS Digipeater MAP
---